TODAY's QUOTE

You know, the Republicans used to be the party that opposed social engineering, but now they push programs to outlaw marriage for some people and encourage it for others. If you're straight, there's $1.5 billion in the budget to promote marriage, but gay marriage is opposed because it threatens or mocks or does something to the sanctity of marriage, as if anything you can do in Vegas drunk off your ass in front of an Elvis impersonator could be considered sacred.

~ Bill Maher
---
Yesterday's Entries
2001: Celebrations
2002: Things I Can't Say
2003: Getting By With a Little Help from My Friends
---
TODAY's READ
Reading Lolita in Tehran
---
On TV
The Guardian
Judging Amy
---
Getting to know me....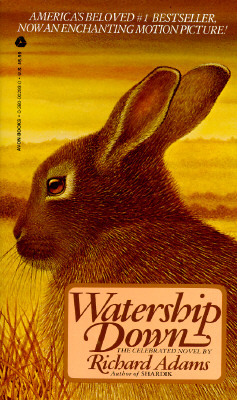 You're Watership Down!
by Richard Adams
Though many think of you as a bit young, even childish, you're actually incredibly deep and complex. You show people the need to rethink their assumptions, and confront them on everything from how they think to where they build their houses. You might be one of the greatest people of all time. You'd be recognized as such if you weren't always talking about talking rabbits.
Take the Book Quiz at the Blue Pyramid.
CRAZY MUM
25 February 2004
Katherine, who signed my guest book, pointed me in the direction of a "crazy mum" site. Unfortunately it is now locked and so I can't link to it, but I did see it, if it's the one I'm thinking of, a week ago. It was one kid's diatribe against his mother's mess. It came complete with photo after photo after photo of horrendous messes, stacks of things, piles of things, outdated food, dirt on the floor, etc.
The only good thing about seeing those photos was realizing that this house doesn't look like that any more.
Smugly, I sent the photo link off to my kids, one of whom responded "Oh my god -- it's like 'extreme mom and dad'." Funny comment, but since I'm not that person any more, I no longer felt guilty at hearing a statement like that.
Most of this house (including closets!) can now be viewed by unexpected visitors and it's a nice feeling.
There are, however, rooms which still rival "crazy mum" for mess and clutter.
But it's difficult to attack those rooms because I have nurtured a family that has difficulty getting rid of things long past their usefulness. It's not surprising. I was one of those people for most of my life. I have only recently become a born again de-clutterer and I know that any missionary needs time to convert the savages to whom she wants to bring The Word.
Anyone who attempts to bring order to chaos around here is up against some stiff competition. After Paul died, my friend Lynn came from Houston to stay here for a week and help out. She took it upon herself to straighten up one of our worst rooms. I gave her carte blanche to go through and throw away things, figuring that everything in that room was something we hadn't thought about in years and if we didn't actually see it going out, we'd never know that it had been thrown away.
Walt wasn't quite so cavalier and while he was grateful for her help and agreed that she could do whatever she wanted, he asked that she toss things into his pickup truck and after she went home, he went through it all, and lots of it came back in again.
A few years later, Ned and Marta had a giant garage sale. Walt and I were going to be on vacation and Ned decided he'd go through the room and get rid of lots of stuff. This was more successful because neither his Dad nor I were here and didn't know what he took. ("Just take whatever you want," I told him "Don't tell me what you took.")
Now that I have time on my hands again, I decided I'd tackle the worst room. Walt was going to be out of town and wouldn't be back until the garbage men had made a pick up, so I felt I could get rid of a lot of things that wouldn't be noticed and Walt wouldn't feel bad because he wouldn't realize what was gone.
But when the kids heard of my plan, they felt uncomfortable about my attacking the room and throwing things away, willy nilly. One didn't think it was fair for me to make decisions without checking with Walt; another still had things in the room and wanted to make sure I didn't touch those things.
(I can understand the fear of losing "treasures." I have no idea of what parts of my childhood were thrown out after I moved away from my family home. Given how I save things, I'm probably better off that my mother never checked with me beforehand, but having that experience makes me sympathetic to the feelings of the kids on this issue.)
I did start the clean-out project and as I began to go through the piles, I found things that I'd moved out of my own office and thrown away when I started my newer cleaner house regime. They were back up in the bedroom. I'd been so proud of finallybeing strong enough to get rid of them to make space downstairs and clear away some clutter, but there they were upstairs again, still here, only now taking up space in a different room.
So I've given up. I've decided that there are neat rooms in this house which I will take it upon myself to keep neat, tidy, dusted, and organized--and ready for guests to come.
There are parts of the house upstairs, where nobody but family goes, which would make it to the evening news if they were to be seen. When the other members of this family are ready to part with the things in those rooms, then we'll tackle it together.
Ned's wife has rolled her eyes many times and talked about blowing up the house after Walt and I die because the thought of cleaning it out is so overwhelming. Well....I've tried. Perhaps there will only be a couple of rooms she feels she has to blow up and maybe I can get the rest of the house into some sort of shape where she won't have any bad feelings about me for leaving it in such deplorable condition.